The Arkenstone presents Tsumeb Fine Minerals.
NOW RUNNING!:Mineral Auctions


Please visit www.mineralauctions.com for the best in-house mineral auction venue on and off the internet.

Welcome to TSUMEBFINEMINERALS.COM: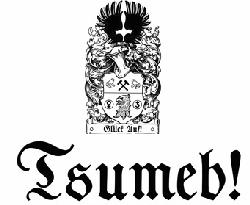 a site dedicated to the collectible
mineral treasures of Tsumeb, Namibia!


This site will be dedicated to showcasing the incredible wealth of collectible mineral specimens that came from the Tsumeb mine over almost 100 years of mining. Most of us, even dealers, never get to see so much of the fabulous array of minerals that have come from this extraordinary location all in one place. As I obtain collections, Tsumeb specimens will be constantly added to this site. It is going to be a constant work in progress, with the ultimate goal of becoming a repository not only of specimens for sale but even more importantly as a reference guide for what is available on the contemporary market from this important location, and how that representation changes with time.


SPECIAL TSUMEB-related EXCERPT from What's Hot in Tucson 2008 video!
Dave Wilber and Bryan Swoboda, creators of the new hobby-show video series, What's Hot in Tucson 2008, have allowed me to post this short video excerpt from their video. It features Marshall Sussman discussing his Tsumeb collecting career (and their SECOND collection, built since 2004). To order their video, CLICK HERE here for more information , and click on the link above to go directly to the posted interview. I recommend their video highly!

VIEW OUR MINERAL GALLERIES

ED RUGGIERO
COLLECTION :
(July 5, 2006)



FROM THE JIM & MARJORIE FERGUSON
COLLECTION :
(March 1, 2006)



FROM THE WILLY ISRAEL
COLLECTION :
(Jan 11, 2005)- please contact
for limited availability



REFERENCE GALLERIES:
- all sold, for display only

SUSSMAN COLLECTION (May, 2004)




The John Schneider TSUMEB COLLECTION
(for display only)
CLICK HERE...


The Richard and Mary Nelson
TSUMEB COLLECTION
(for display only)
CLICK HERE...

almost finished...


TSUMEB ISSUE of the Mineralogical Record
(NOW POSTED IN FULL ONLINE!)
The historic extra-large 1977 issue of the Mineralogical Record, presented in full (with permission) for the first time online.


TSUMEB II book (in English) - $150
by Dr. Georg Gebhard of Germany
internationally known expert on Tsumeb mineralogy and specimens

This is currently the ultimate reference book for TSUMEB minerals for the collector, filled as it is with a broad scientific background and also photos and examples of exciting specimens. This informative hardcover book is 300-plus pages with hundreds of specimen photos. This edition (unlike TSUMEB I), is in English. Normal price at shows was $150 and I am offering them for the same, plus shipping ($10 in US, or $25 for 1-week Fedex overseas! 2 Dozen available

(temporarily sold out, sorry!)


Featured Mineral Galleries:

COBLATIAN SMITHSONITE: Crystallized in a variety of pink to red colors - as fine a suite as ever I have seen in one place!
GO TO THIS GALLERY >>

ACQUISITIONS: WE BUY COLLECTIONS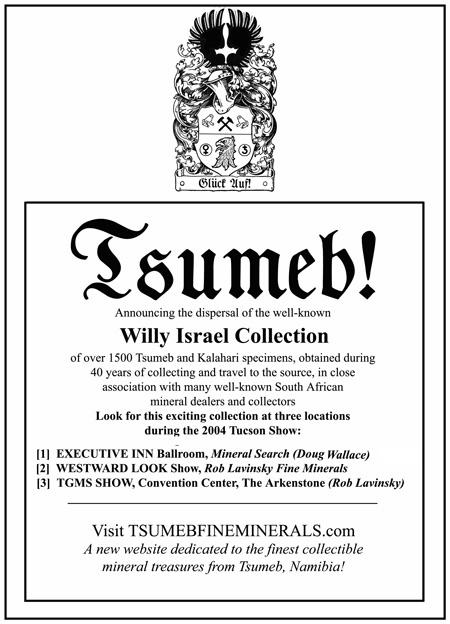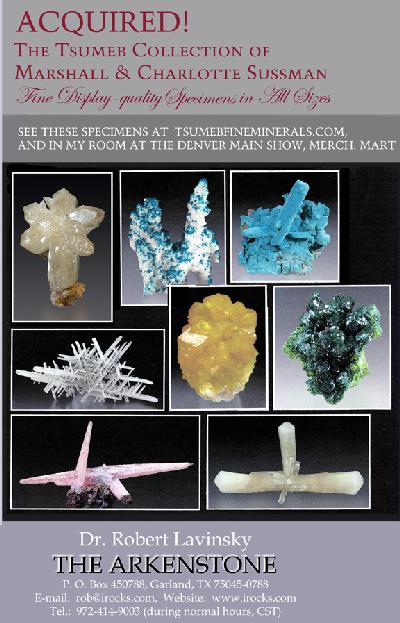 ---
RECENTLY ACQUIRED!: CHARLIE KEY COLLECTION
& 1000's of pieces of old DEALERS STOCK

These advertising layouts for print media designed by Dr. Wendell Wilson

The Arkenstone - Dr. Robert Lavinsky

PO Box 450788
Garland, TX 75045-0788
Phone 972-414-9003 "normal hours" Central Time Zone, E-Fax 413-581-0589